An 18-Year-old Free SHS Graduate in KNUST Studying Actuarial Science Needs a Scholarship
An 18-Year-old Free SHS Graduate of Bosome Sec/Tech with 6As and 2Bs who is currently pursuing Actuarial Science in Kwame Nkrumah University of Science and Technology needs a scholarship to help take care of his fees, books, and personal needs.
You have heard and seen the results of students from big schools like Pressec and Achimota but not that of Agyei Kwanning Vincent, of Bosome Sec/Tech who obtained 6As and 2Bs in the 2020 WASSCE.
When his result popped up, family friends had to contribute to help him buy his admission form. The same had to be done by well-wishers to pay his fees, however, a loan had to be secured so he could pay his residential fee as KNUST. Vincent is looking forward to an opportunity to access a scholarship so that his university education does not suffer and he does not one to be a burden on his current individual benefactors.  
Vincent's 6As and 2Bs WASSCE result is attached below. He studied general Arts and obtained A1 in Social Studies, Mathematics, Integrated Science, Economics, Government, and Mathematics (Elective). He scored 3B in English Language and Geography.
Vincent's 6As and 2Bs WASSCE result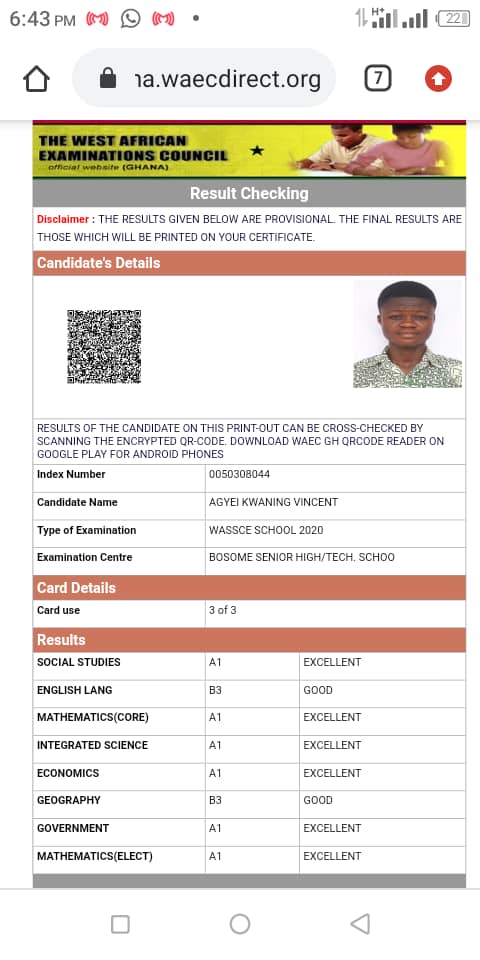 "I am hunted by the fear of never completing my tertiary education if I do not get help from the government or an NGO in the form of a scholarship to help me realize my dream." 
In an interview with Ghanaeducation.org, Vincent shared his ambition of becoming an Actuarial Science professional, venture into Economics and Law with his strong background in mathematics.
ALSO READ: WASSCE 2020 Bitter Truth: At least 175000 Free SHS Graduates to miss University Admission 
Vincent while speaking to Ghanaeducation.org disclosed that, if not for Nana Addo's Free SHS, it would have been a more difficult journey through the SHS as a student. 
If not for the Free SHS, I don't think I could have complete SHS. This is because the dependency burden on my father is so huge. He said

During his emotional interview with our correspondent, he said the dependency burden on my father is so huge, I have five siblings, and buying books at the SHS was very difficult for me, so I had to rely extensively on my notes. If we were to buy any stuff in school I had to borrow from friends, then I repaid little by little through the widows might support I received from my father, which in itself was a joy to receive. I believe with support, perseverance, and determination I can sail through and achieve this ambition. I will not disappoint. He said as his voice dropped over the telephone during the interview.
As a first-year student, Vincent says he is yet to get recommended books for his programme. The Free SHS Graduate of Bosome Sec/Tech Graduate, Agyei Kwanning Vincent with 6As and 2Bs is now pursuing Actuarial Science at KNUST is therefore appealing to the President of Ghana, the Ghana Scholarship Secretariat, with scholarship opportunities that meet his humble request to the extent a hand of support to help him achieve his goal. 
To Help Agyei Kwanning Vincent, kindly get in touch with Ghanaeducaton.org via WhatsApp/call +233550360658, and we shall connect you directly to him. 
ALSO READ: SCHOLARSHIPS
Source: Ghanaeducaton.org