Instagram expands broadcast channels feature globally. Here's how to use it
Instagram expands broadcast channels feature globally. Here's how to use it
Instagram's broadcast channel feature is now available globally. Here is how you can use it.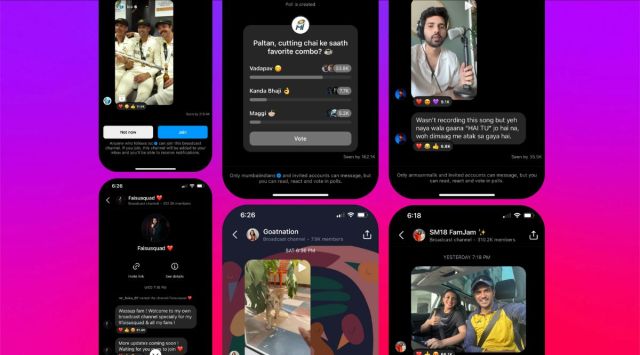 Many popular Indian Instagram accounts, including Mumbai Indians and Smriti Mandhana, already have broadcast channels set up. (Image credit: Instagram)
Meta announced today that it is expanding the Instagram broadcast channels feature to all users globally. The social network began rolling out the feature that allows creators to send photos and videos to their followers directly in February. But now, it should start becoming available to all users.
Creators will be able to use broadcast channels as a public one-to-many messaging tool where they can invite all their followers and share text, image and video updates. They can also share voice notes and create polls to source feedback from fans. Of course, only creators will be able to send content in the channels and followers will be restricted to reacting to content and voting in polls.
Broadcast channels and how they will work
If a creator gets access to broadcast channels, their followers will receive a one-time notification to join the channel after the creator sends their first message. They can send this message from their Instagram inbox. Any user can discover broadcast channels and see the content within but only followers who join the channel will get notifications when there are updates.
Followers will have the choice to leave or mute any broadcast channel they have joined whenever they want. They can also control their notifications from creators by going to a creator's profile, tapping the bell icon and selecting "broadcast channel."
By default, notifications will be set to "some" but users can change this to "all" or "none." Followers will only get the invitation notification from a channel unless they have signed up for it. If they add a channel to their inbox, it will appear with other message threads and notifications will be turned on. At that point, it will function like any other chat except that most users will not be able to reply.
How to join a broadcast channel
You can access a link to a creator's broadcast channel through a link on their Story sticker, or one pinned to their Instagram. Or you can join through the one-time notification mentioned above, sent to existing followers. After clicking on any of these, tap "Join broadcast channel."
New broadcast channel feature
Apart from expanding the broadcast channel feature globally, Instagram also announced a "Collaborator" feature where creators can invite other creators, or even fans, to participate in their broadcast channels. Think of it like inviting a special guest to a podcast. This feature is also now available globally.