How to transfer entire playlists between Spotify, Apple Music, YT Music, & others
How to transfer entire playlists between Spotify, Apple Music, YT Music, & others
Made a switch from Android to iOS and wish to transfer your playlists from Spotify to Apple Music? Or do you wish to keep two playlists in sync across two platforms? This handy tool can help.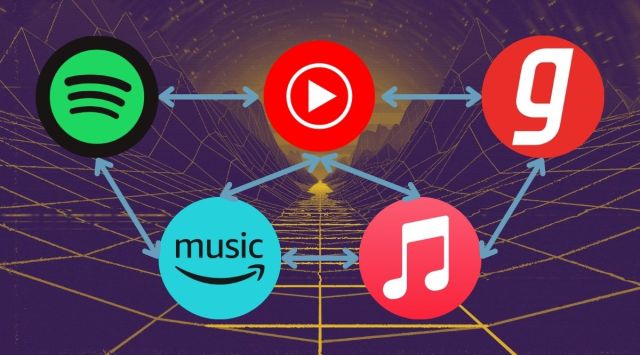 Transferring playlists between apps has never been this easy
There hasn't been a better time to live for music lovers in India than now. Owing to a music streaming boom in the country, there's now a slew of music streaming services to pick from. And the days of having to painstakingly download every song from shady MP3 sites are long past. But with so many options to pick from, it's difficult to stay loyal to a single service sometimes.
If you've ever switched music services, then you must be familiar with the struggle of transferring each song and re-curating playlists. Helping ease that process is the nifty tool Soundiiz, which not only helps transfer entire playlists between music streaming apps but also helps keep them in sync. See how you can use the tool below.
Getting started
1. Visit soundiiz.com on any device and log in using the button on the top right
2. You'll be directed straight to the Soundiiz web app
3. Tap the hamburger menu icon on the top left and hit the Connect Services button on the bottom left
4. Here, hit the Connect button for the services you wish to transfer/sync playlists between
Transfer playlists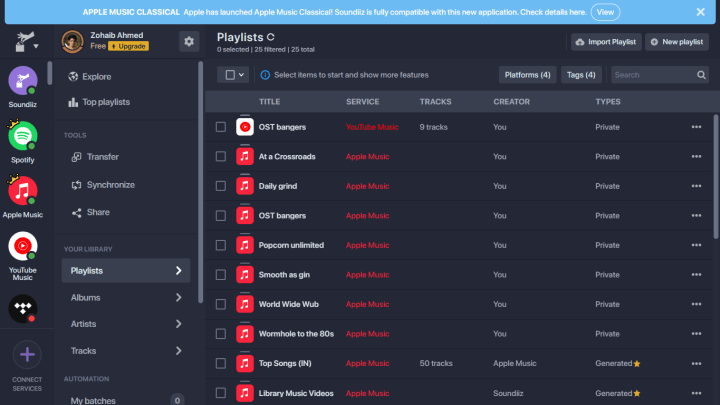 The Soundiiz web app interface.
1. Open the hamburger menu again and tap on Transfer under the Tools section
2. Select source (the service you wish to transfer your playlists from) and destination (the service you wish to transfer to)
3. Hit the Start button
4. Hit the pencil icon to select the playlist you wish to transfer. Note that you'll only be able to transfer one playlist at a time if you are a free Soundiiz user
5. Keep hitting the Confirm buttons at the bottom to proceed until you see the Transferring screen
While you'll not be able to transfer more than one playlist at a time, you can always repeat the process until you've transferred all your playlists.
Sync playlists
If you keep juggling between two or more music streaming platforms, like Spotify and Apple Music for example, then keeping your playlists in sync between the two can be a tedious task. Soundiiz automates this process – when you've turned on sync between two playlists, adding a new track for one playlist will automatically insert the same track into another.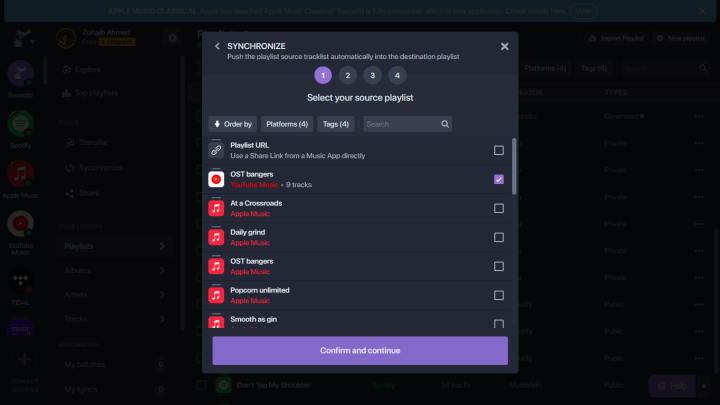 Selecting the source playlist for synchronisation.
1. Visit soundiiz.com/webapp and open the menu from the left again. Select Synchronise from under Tools
2. Select the first playlist and hit the Confirm and continue button
3. Select the destination platform and then select the second playlist
4. Select the Add tracks option here. Doing so will automatically add whatever tracks you add to your source playlist to your destination playlist as well
5. Select a frequency for syncing between Each day and Each month
6. Hit Save configuration.
Just note that Soundiiz only lets you activate a single 'Sync' when you're unsubscribed. While the feature has been tried and tested, you can always open the hamburger menu, navigate to My syncs from under the Automation section, and delete the Syncs you have set up in the event things go haywire.