Worried about opening WhatsApp at work? This browser extension can blur your chats, contacts, and typing indicators
Worried about opening WhatsApp at work? This browser extension can blur your chats, contacts, and typing indicators
Called WA Web Plus, this Chrome extension for WhatsApp Web extends the chat app's feature list and enhances privacy.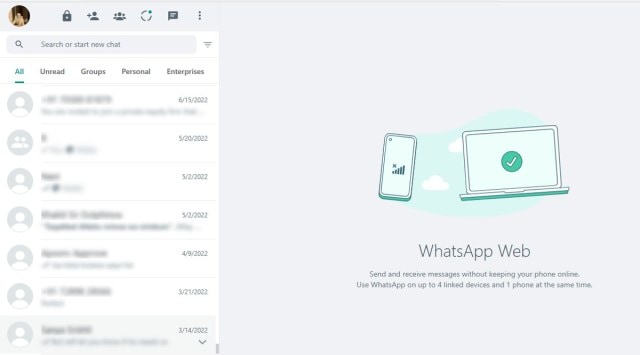 WA Web Plus saves your WhatsApp from prying eyes by blurring out certain elements, among other things
WhatsApp isn't exactly built to be used for business collaboration – people generally use apps like Slack for that. But in India, the Meta-owned platform is like a one-stop destination for all kinds of communication, work and otherwise, which can mess with the work-life balance sometimes.
Things get worse when you work in an open office where people can outrightly peek into your system. Or you could be working at a cafe trying to mind your own business but are bothered by an invasive seatmate.
Helping with these problems is a browser extension for WhatsApp Web that blurs out contact names, their profile pictures, and/or their messages on the chat list. Called WA Web Plus, the extension extends the chat app's feature list and enhances privacy. Here's how you can use it.
Requirements
While WA Web Plus's website claims that the extension is built for Chrome, it should also work on Edge, Opera, Vivaldi, and Brave, since they use the same engine (Chromium). We tested it out on Edge and it worked expectedly. However, browsers like Firefox and Safari are left out since they cannot install from the Chrome Web Store.
How to install WA Web Plus
1. Search for WA Web Plus for WhatsApp on the Chrome Web Store and hit the Add to Chrome button
2. You should see a new shortcut for the extension pop up on the toolbar
3. Click it to launch WhatsApp and then click it again to launch the extension's menu.
Most useful WA Web Plus features
The WA Web Plus's list of features is overwhelmingly lengthy but some features are obviously more useful than others:
Blur recent messages, contact names, contact photos, and conversation messages: Your colleagues will only see what you want them to see when you've toggled these on.
Set lock screen password: If you are in the habit of your leaving your PC open when you go on lunch breaks then it's important to ensure that no one has access to your WhatsApp but you even when you're away.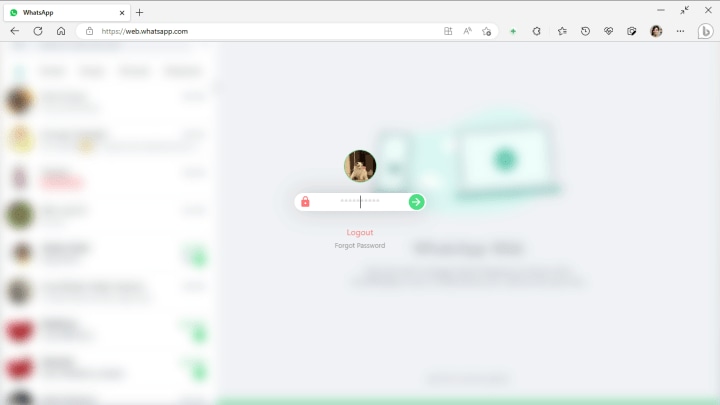 The extension's lock screen password feature locks WhatsApp behind a pin.
Set custom wallpaper: WhatsApp's mobile apps let you set custom backgrounds for chats but so far the desktop version has skipped the feature. WA Web Plus makes it available for the web version too.
Enable chat folders: If you are drowning in scores of chats and there's no hope for rescue, then sorting them neatly into folders (Unread, Groups, Personal, Enterprises) can help you find relevant chats easier.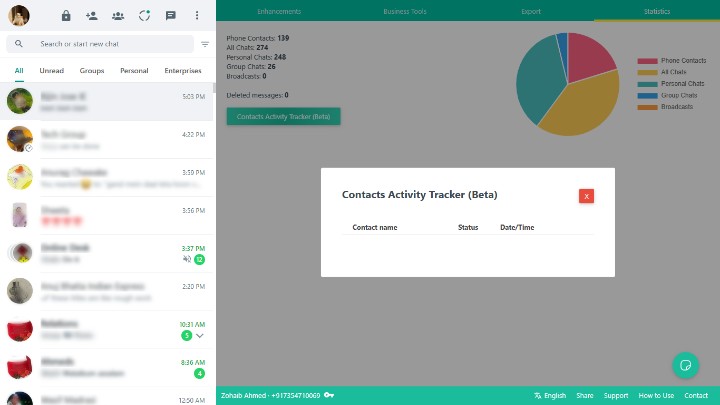 The chat folders and statistics features can be seen here.
Statistics: The Statistics tab shows you a summary of how your WhatsApp is organised, laying down the number of chats, group chats, and contacts you have for you.
Of course, these are only the top 5 features and they only scratch the surface. The extension also offers business tools such as Smart Auto Replies, CRM Integration, and a lot more – but you'd have to subscribe for those.
We found the extension safe to use, but in the event something unexpected happens, you can always right-click the extension's shortcut from your browser's toolbar and uninstall it. Any changes you've made to your WhatsApp will revert immediately then. But do note that since the extension is third-party software, your chats could be at risk of exposure to it — even though the Google team does manually review the code for every extension uploaded to the Chrome Web Store.