How to free up storage space on Android by clearing temporary files
How to free up storage space on Android by clearing temporary files
Fed up with low storage space messages on your phone? Here are some ways to quickly reclaim internal storage space on an Android device.
The smartphone industry has matured immensely in the last couple of years and so has the hardware. But even with most phones offering a large amount of internal storage space, the size of apps has also grown significantly. If you want to free up some storage space on your Android device, here are some of the quickest ways to do so.
Clean your phone with Google Files
Available on the Play Store for free, Google Files is one of the best file manager apps of all time. But did you know that it also doubles up as a storage cleaner? To clean junk using Google Files, launch the app and simply tap on the 'Clean' button at the bottom of the screen.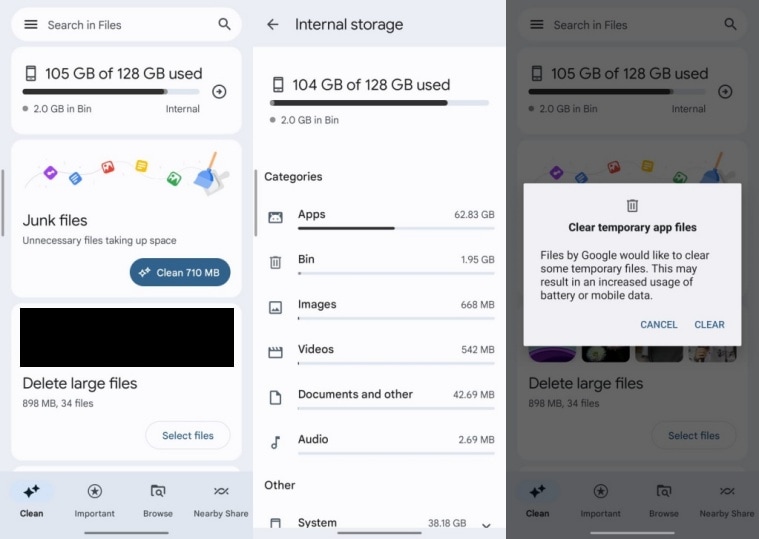 Here, you can clean your bin/trash folder, delete junk files with a single tap or choose to view and delete large files, APKs, or backed-up media. To clear up junk from your phone, tap on the 'Clean' button under the 'Junk Files' section and you are good to go.
Backup images and videos to Google Photos
If you are someone who clicks photos or shoots videos every now and then, you might often find yourself running out of storage space. While it is always nice to have photos stored on your local storage, cloud photo service providers like Google Photos are an easy way to free up some storage space.
To upload photos and videos to Google Photos, just install the app on your phone and sign in with your Google account. Now click on your profile picture on the top right of the screen and you will find the option to enable or disable backup. Here, you can choose which quality you want to upload photos in and which folders should be included in the backup.
Google Photos can help you free up space by uploading your photos and videos to the cloud. (Express Photo)
Once done, the app also lets you delete from your device that has been backed up to the cloud. To do so, tap on the profile picture icon, click on the 'Free up space'  option and you will find a list of photos that can safely be deleted from your device.
Delete WhatsApp media
Are you part of numerous WhatsApp groups that share images and videos regularly? If your answer is yes, it might be one of the reasons why you often run out of storage space on your phone. To check how much space WhatsApp is occupying, launch the app, tap on the three-dot menu that appears on the top right of the screen and click on 'Settings'. On the page that appears, tap on 'Storage and data' and head over to 'Manage storage'.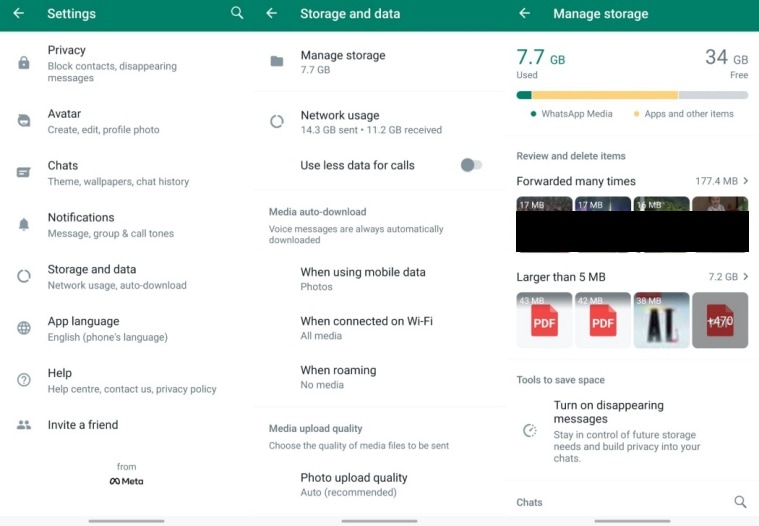 WhatsApp offers a built-in tool to delete images and videos. (Express Photo)
Here, you can see how much space is being occupied by WhatsApp media with WhatsApp offering a built-in tool that lets you delete large files and items that have been forwarded many times. The app also sorts conversations and groups and offers users a sneak peek at which groups or conversations take up the most space.
Uninstall games and rarely-used apps
Tried all the above solutions but still short on storage space? As a last resort, try removing some games and apps you haven't used in a while. To do so, launch Play Store and tap on the profile picture at the top right. Now, click on 'Manage apps and device' and head over to the 'Manage' section.
Google Play Store lets you sort apps by size, rarely used, least used and more.(Express Photo)
Here you will see a list of apps and games filtered by recently updated. Tap on 'Recently updated' and click on 'Least used' or 'Size'. Now, choose the apps or games you want to remove and you are good to go.