Android 14 beta includes iOS-like battery health monitoring system
Android 14 beta includes iOS-like battery health monitoring system
Android 14 has several new features including the battery health management system.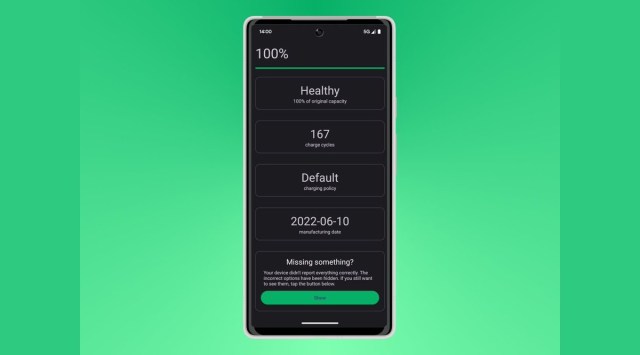 Image credited
Google released the first public beta of Android 14 back in May at its I/O developers conference, revealing several features and capabilities of the upcoming Android version. Now, a new report from Android researcher Mishaal Rahman suggests that Android 14 will include an iOS-like battery health monitoring capability.
According to the report, a new system API named BATTERY_STATS on Android 14 beta indicates that Google will soon add more features to its default battery health app, which should allow users to check battery status, including battery health, charge cycles, and charging status, similar to the feature that Apple introduced with iOS 14.5.
This feature is likely to be included in the future versions of Android 14 beta, allowing users to get a quick glance at the battery status in real-time. Similarly, the same information can also be used to inform users if their old phone requires a battery service.
Users with a phone running on Android 14 beta can now download and install the app from Reddit to test the upcoming feature. However, the report is not sure about the accuracy of the stats shown on the app. Do note that there are many third-party apps like Battery Guru on Google Play Store, which offer similar battery-centric information even on phones running on older versions of Android OS.