WhatsApp adds new updates to Polls feature, lets you use captions while sharing images & docs
WhatsApp adds new updates to Polls feature, lets you use captions while sharing images & docs
The latest feature will make creating and managing polls more efficient.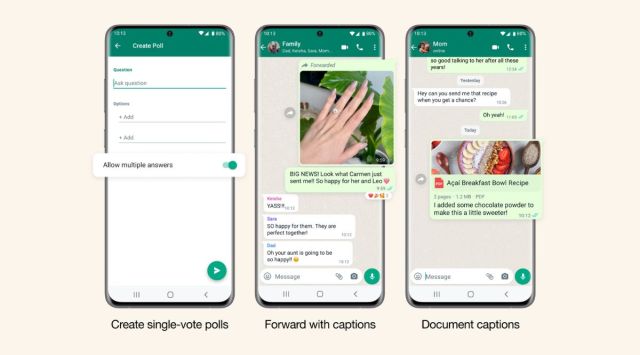 The world's most popular instant messaging application, WhatsApp, has introduced some new features to its vast user base. The application which has the most active users worldwide has been actively innovating to enhance the user experience. The Meta-owned application today unveiled new features that include updates to Polls, a feature that allows forwarding with caption and sharing documents with captions.
"As we continue to innovate the app, today we're sharing several new features coming to WhatsApp that we hope will make chats a little more productive and fun," the company said in its official release.
Here's a look at all that's new on WhatsApp.
In November 2022, WhatsApp rolled out its polling features to users. And now, it has introduced some new updates to its popular feature. The new features are – create single-vote polls, search for polls in your chats, and stay updated on poll results.
With single-vote features, creators can now make polls that allow people to vote only once. To use this feature, users simply need to turn off 'allow multiple answers' when creating a poll. The search for polls in chats option lets users filter messages by polls, just as they do with photos, videos or links. To use this feature users need to press Search on Chats screen and then hit the Polls option to find a list of all results. Meanwhile, the stay updated on poll results feature, as the name suggests, will let users receive notifications when people vote on their polls. It will also show how many people voted in the people so that users can keep tabs on the polling activity.
Now, forward with captions
Sharing photos is one of the best ways to keep your folks updated. While WhatsApp already allows you to forward photos, now it has introduced captions for media being forwarded. While forwarding media with captions, now users will get the option to keep, delete or completely rewrite. WhatsApp now also allows users to add captions to videos and photos when users forward them to their connections.
Not only this but now users can also add captions while sharing documents. This feature can come in handy when sharing docs that require some explanation. According to WhatsApp, these updates have started rolling out to users globally and will be available to everyone in the coming weeks.