WhatsApp's new Keep in Chat feature allows users to save disappearing messages
WhatsApp's new Keep in Chat feature allows users to save disappearing messages
WhatsApp is rolling out a new feature that would allow users to keep disappearing messages if the sender allows.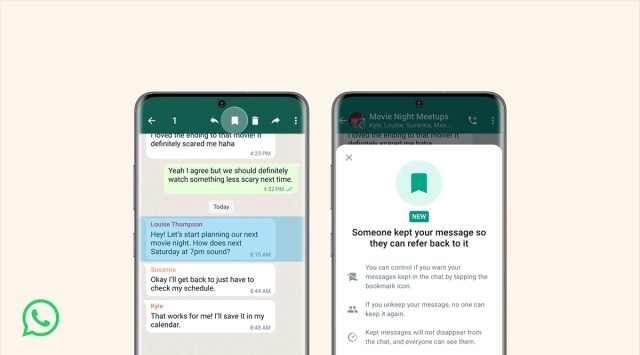 WhatsApp said it will roll out the new keep messages feature globally in the coming weeks. (Image credit: WhatsApp)
WhatsApp's disappearing messages is a great privacy feature for users who want their messages to disappear after a set time. Now, the instant messaging service will allow the senders of disappearing messages to keep some of the texts they send in the chat even if the feature is turned on.
Earlier this year, it was reported that WhatsApp is testing such a "Kept Messages" feature, and now, the instant messaging service has made it official.
With disappearing messages, conversations do not stitch around forever. This acts as a layer of protection for messages that you wouldn't want falling into the wrong hands. But what if there is a message or voice note that you want to keep in the chat despite the feature being turned on? That is where the Keep in Chat feature comes in handy.
When someone in a group chat keeps a disappearing message, the sender of the message will be notified, and they will be able to veto the decision. If the sender decides that the message should not be kept by others, their decision is final. This would mean that no one can keep it, and the message will automatically be deleted when the timer expires, just like disappearing messages usually do.
If you save any disappearing messages, they will be labelled with a bookmark icon, and you can see them in the Kept Messages feature, organised by chat.
WhatsApp says that the new feature will be rolled out globally over the next few weeks.