12 BECE 2021 rules and advice candidates must not forget
Ghana Education News Latest Exams and Study Tips for BECE Candidates:  2021 BECE rules and advice candidates must not forget.
The 2021 BECE  starts on Monday 15th November and will end on Friday 19th November. The examination is guided by rules and regulations which candidates must obey throughout the examination period.
Ghanaeducation.org will throw more light on some of the rules and regulations deemed key to ensure students aren't taken by surprise. 
12 BECE 2021 rules and advice candidates must not forget
BECE candidates must ensure they do not forget the following.
Start to answer a new major question on a new page of the answer booklet. Let assume you have answered question 2 in Social Studies and now you want to answer question 3. You must start answering Question three on a new page even if there is enough space below the last answer you wrote for question 2.
Make sure you number your answers to correspond with the question you are answering. For instance, if you are answering SOCIAL STUDIES Question 2 b. Before you start writing the answer, write Q2 (b) on the page you are answering this question and leave a line or two before you 

provide

 your answer.
Before you 

submit

 your answer booklet, make sure you have provided all your details and check them to 

ensure

 they are 

accurate

. Eg. Your index number, Name, the question numbers of the ones you answered 

must be

 written on the front page in the space provided at the bottom. For instance, if you answered questions 1, 3, AND 6 then in the space provided write the question numbers there. Eg. Q1, 

Q3

, 

Q6

.
Do not write into the margins of the answer booklet.
Do not insult or aquarelle with the invigilator or supervisor no matter what 

happens

.
Do not attempt to help anyone in the examination hall or go into the hall with any foreign material such as 

prepared

 answers etc. 
Do not join friends to 

review

the paper you finish writing. This is dangerous. Move away from them and relax. Knowing the right or wrong answers you provided will not change anything. Hence keep your focus and work out a plan to prepare for the next subject. 
In addition to this…candidates who want to do well must write answers that are clear and free from grammatical errors and spelling mistakes.
Understand the requirements of the question and

provide

 

accurate

answers to the best of your knowledge.
Do not cancel answers anyhow, using your rule and the pen, draw a neat straight line across the page if you are cancelling several lines of answers or just cross through the sentence or word nicely before you write the one you think is correct.
Where possible use simple sentences and the right vocabulary to answer questions. Learn how to spell keywords before entering the examination hall because they will help you avoid spelling mistakes.
In the examination hall, do not fear, do not panic. But if it happens, take six deep breaths, hydrate yourself, just breathe in and out and remind yourself that, I can do it, I can do this!, I am ready for the exam, I will do well, Fear leave here. To deal with the stress also ensure you set realistic goals as to what grade you can actually make in each subject and work at it.
READ: 2021 BECE: How to restart your brain when it goes blank during an exams
The WAEC and GES have outlined more rules to be followed in the examination hall and chief among them is all forms of examination malpractice. Stay off and free from trouble and make sure the temptation to cheat does not mess your BECE and future up. 
ALSO READ: Warn WAEC not to leak 2021 BECE papers
Keep the 12 BECE 2021 rules and advice candidates must not forget shared in mind throughout the examination.
ALSO READ: 2021 BECE Social Studies Question Answering Tips, Mocks & Answers 
Good luck to all BECE candidates who have worked hard and are ready well for the examination.
DO NOT FORGET THE FOLLOWING RULES AS A CANDIDATE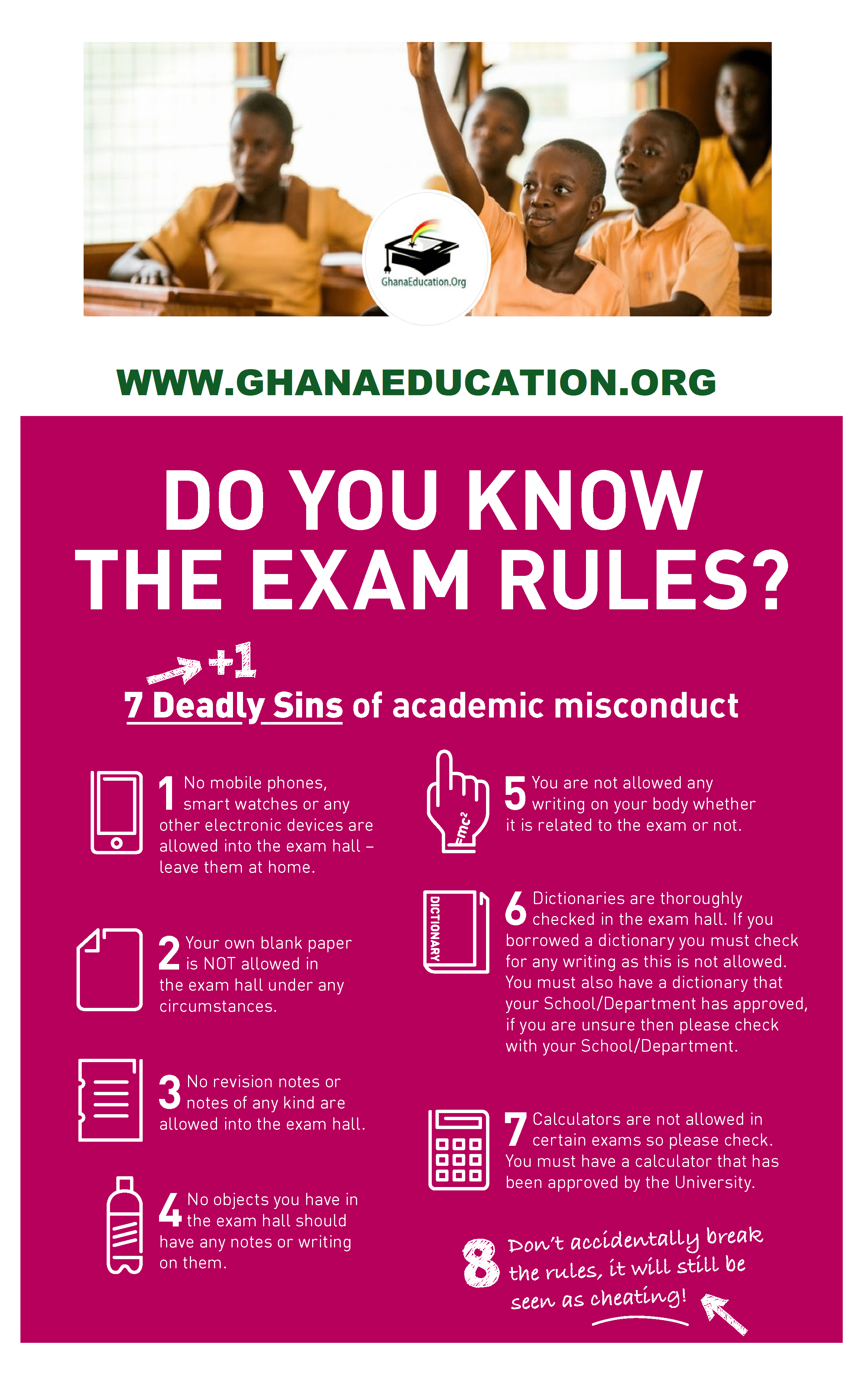 Let the best students make the best grades. However Good Luck to all candidates from Ghana Education News/ Ghanaeducation.org. 
Source: Ghanaeducation.org